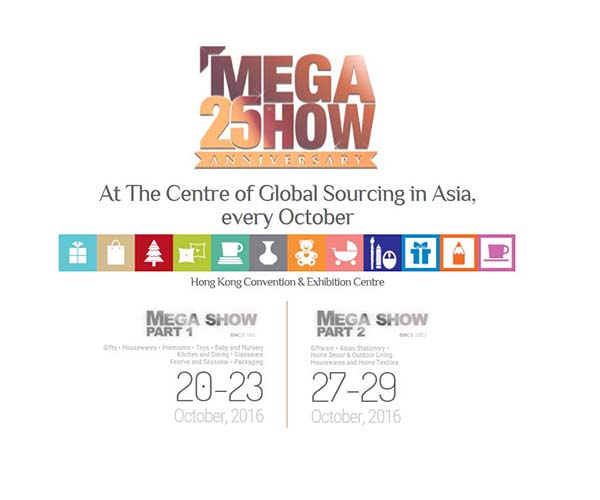 MEGA SHOW Part 1 and 2 are the largest and most important sourcing trade exhibitions every October for gifts, premiums, housewares, kitchen & dining, lifestyle products, toys & games and stationery in the Asia-Pacific region.
The shows take place over seven open days during the last two weeks of October at the Hong Kong Convention and Exhibition Centre. The dates of MEGA SHOW Series are a regular fixture of the autumn Southern China sourcing circuit for global buyers.
Over 52,400 international import and export houses, wholesalers, distributors, agents, mail order companies and retailers from 130 countries and regions attended the show over the seven show days in 2015.
MEGA SHOW Series
The introduction of the defined product segmentation into separate merchandise categories, each located in a specific venue location, along with the new branding as MEGA SHOW Series were well received by buyers in 2015. This new format allowed buyers to easily locate their preferred merchandise sectors and spend more time in each of MEGA SHOW Series with exhibitors of rush-essays interest. MEGA SHOW Series Part 1 (20-23 October, 2016) will Continue to present EIGHT merchandise categories and MEGA SHOW Series Part 2 (27-29 October, 2016) will feature THREE merchandise categories – all clearly defined and color-coded for easy reference.